Our discussion of personal relationships and computer networks focuses on three issues of central concern in this volume.
The first issue is to do with how relationship research currently privileges certain kinds of relationships while neglecting others. We describe relationships that have been observed in this new medium and identify a number of assumptions and biases underlying much social psychological theorizing that are common to both relationship research and media analyses. These proclivities foreshadow the conclusion that attraction and relationship development are primarily dependent upon face-to-face interaction.
The second issue is about the need for theoretical extensions to cover these understudied relationships. Here however, we argue that the study of on-line relationships throws up various challenges that are not easily met by the addition of some simple contingencies to current social psychological models of relationship processes. We outline a model of situated social interaction that aims to recognize the constructionist dimensions of self, relationships and technology, and give them a concrete social psychological grounding.
By focusing on the social context for the development of 'electronic relationships', rather than on interpersonal communication, we aim to underline the importance of viewing all personal relationships as socially situated. This approach has implications also for an issue that underpins all of the volumes in the present series, namely the central role of competence in relationships. Here we argue that on-line communities provide a vivid illustration of how competence in manipulating technical artefacts is also implicated in the essentially social process of constructing personal relationships.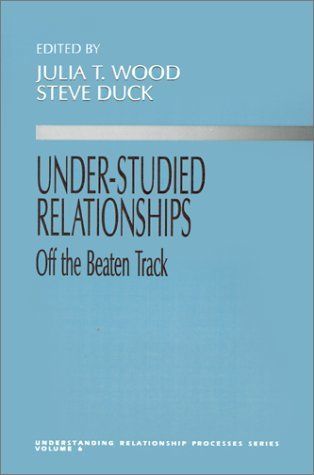 Lea, M. & Spears, R. (1995). Love at first byte? Building personal relationships over computer networks. In J. T. Wood & S. Duck (Eds.). Under-Studied Relationships: Off the Beaten Track (pp. 197–233). Thousand Oaks: Sage.
About the Book
The diverse and emergent forms of relationships, increasingly evident in today's society, are the focus of this volume. Outstanding researchers discuss relationships that are often overlooked in the literature, including: lesbian and gay; cultural minority; long-lasting marriages; non-marital cohabitation; long-distance; friendships developed through computer networks; and work relationships which are simultaneously hierarchical and friendly.