Academic Website Managed Hosting and Site Care
For Researchers, Authors, and Educators
---
I provide a cost-effective personal website management service tailored to the requirements of researchers, academics, authors, consultants and therapists. The following features and services are included for a low monthly price to give premium web hosting, reliable performance, security and peace of mind. My annual plan is even more cost-effective.
Reliable, professional containerised, cloud web hosting provides a faster and more secure website hosting than traditional shared hosting.
Free website migration (if required)
Guarantee of normal functioning of website as designed
Ultra-reliable website hosting (99.9% uptime commitment).
Use of server caching services to ensure that your website is fast and reliable for visitors.
Use of a Content Distribution Network (CDN) to ensure that your website is  globally fast.
Handling of all technical support issues on your behalf with the Hosting Provider.
Regular (normally monthly) software updates to WordPress scripts, themes, plugins and server.
Maintenance and renewal of usual software licenses necessary for the operation of your website (there may be a small annual renewal charge for additional site-specific licenses (to be advised and agreed).
Continuous security monitoring.
Configuration of your website to help prevent malicious attacks or hacking by a third party.
Daily encrypted backups of your website database securely stored offsite.
Weekly encrypted backups of your entire website securely stored offsite
Emailed monthly report including traffic statistics to your website.
Annual renewal of your website domain name.
Free advice on website design improvements, and recommended plugins.
Discount on my web Design service.
Discount on my  Search Engine Optimisation service (SEO).
Discount on my Book Landing Page design service.
Discount on my Email List Building service.
Case Studies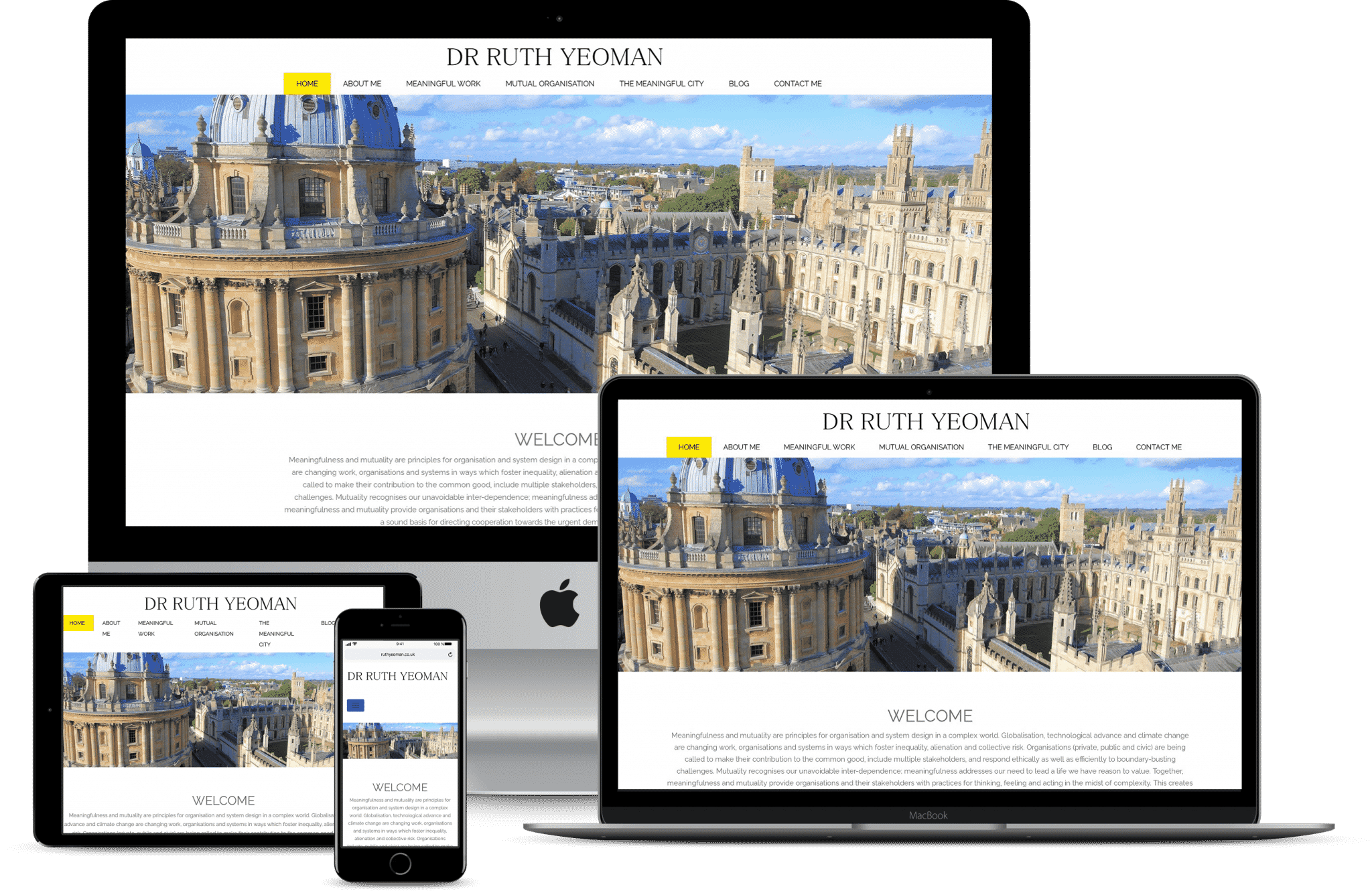 Ruth Yeoman already had a personal academic website, but she wanted someone who understood her professional needs to look after all the technical aspects of hosting and maintaining her site, and at an affordable price. Read what I did, as well as full details of my Site Care plans.
Interested in Working together?
Contact me to discuss your website
If you'd like to learn more about how I could help you and your website, please click the button below and fill in my contact form.