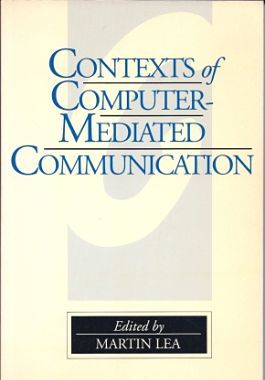 The notion that 'uninhibited behaviour' is associated with communicating via computer has gained a great deal of attention. One manifestation, 'flaming' (the hostile expression of strong emotions and feelings) has been widely reported in the research literature and commented on in the national press. Indeed, flaming has come to be regarded as symptomatic of the down-side of installing computer conferencing and electronic mail systems in organizations. Advice on how management can best avoid or cope with the emergence of uninhibited behaviour in newly installed networks—by establishing firm controls on the communication—has also been offered.
This article has been cited in 598 publications.
Flaming on the Internet: Observations, explanations, implications
Click To Tweet
Introduction
In this chapter we explore in some depth the phenomenon of flaming with the intention of challenging the widely accepted claim that CMC somehow promotes such behaviour. We shall be arguing that, far from being uninhibited and deregulated behaviour that is universally observed, flaming is in fact both radically context-dependent and relatively uncommon in CMC, but that (for a variety of reasons) it is frequently remarked upon. We shall describe how research has tended to decontextualize flaming and how, as a consequence, flaming has come to be regarded as a characteristic of the medium. Our ultimate aim will be to present a recontextualized account of flaming behaviour in CMC.
We begin by setting the scene with three anecdotal accounts of flaming and uninhibited behaviour in CMC, followed by our survey of the research literature. We then briefly summarize two explanations for flaming that have been proposed. In the second half of the chapter we discuss the definitions of the term and evaluate the explanations and empirical evidence for flaming. We then briefly present a theoretical perspective that reconsiders flaming as normative, social behaviour, before returning to reconsider the anecdotal accounts with which we began our tour of the flaming phenomenon.
Three accounts of uninhibited behaviour in CMC
Exhibit 1. In 1981, IBM's vast internal electronic mail network (VNET) was reported to have evolved into a 'gripenet' for employees to 'let off steam and get out old hurts'. Originally developed for R & D project teams to discuss their work, the network came to be used to air criticisms of organizational policies, dissatisfactions with working conditions and career prospects in the company. Personal attacks were made on managers, job resumes were circulated and resignations were announced over the network (Emmett, 1981).
Exhibit 2. On Compuserve, a large public network, various forms of flaming and 'uninhibited' behaviour have been reported, ranging from sexual overtones to consciousness raising (Van Gelder, 1983; Siegel, Dubrovsky, Kiesler, & McGuire, 1986). Participants steal each other's pen names and act in irresponsible ways, mis-representing their age, sex and so on, or sending obscene messages using another person's name (Hiltz, Turoff & Johnson, 1989).
Exhibit 3. In 1982, the U.S. military's Defence Advanced Research Projects Agency (DARPA) which manages Arpanet, the oldest CMC network, introduced policing of the network bulletin boards because of problems with messages deemed in 'bad taste' by the authorities. Messages were manually screened before being relayed to the bulletin board (Kiesler, Zubrow, Moses & Geller, 1985).
These anecdotes, which were introduced to the research community in a series of articles reporting on investigations into social psychological aspects of CMC highlighted a crucial issue surrounding CMC at that time which had important practical implications (Kiesler, 1986; Kiesler, Siegel & McGuire, 1984; Kiesler et al., 1985; Siegel et al, 1986). Specifically, they challenged the view that CMC was a 'cool' communication medium in which interpersonal 'noise' and social influence were minimised because of the narrow communication bandwidth, while the exchange of information was maximized by virtue of the enhanced capabilities for information exchange that computers offered (e.g., Hiltz & Turoff, 1978; Johansen & DeGrasse, 1979; Murrel, 1983). The cool view suggested that CMC would encourage more 'rational' problem-solving and decision-making since information would be processed by people without the distractions and irrelevancies of social considerations that might otherwise lead to poor decision-making (see Rice, 1984).
Clearly, the tendency for uninhibited behaviour to emerge in CMC undermines this rational view of the medium. flaming suggests irrationality, loss of control and hostile interpersonal behaviour; the precise opposite of the behaviour implied by a 'cool' communication medium. A very different view was constructed around these and other equally important observations; one that placed emphasis on the need for interpersonal cues, communication feedback and an adequate social context for human interaction generally. The relative absence of such factors in CMC, according to this view, does not promote more rational and efficient communication so much as various forms of uninhibited and deviant behaviour including flaming, irresponsibility, disregard for social norms and the standards and conventions of society, and a tendency towards more risky decision-making (Kiesler et al., 1984).
A reconciliation between these two opposing views of CMC—rational, efficient and productive on the one hand, and irrational, deficient and disruptive on the other—is presently led by comparative media models of CMC. These hold that CMC is efficient for some communication tasks—the routine exchange of information and tasks that lack a socio-emotional dimension—but is inappropriate for other tasks that have a high socio-emotional requirement (see e.g., Rice, 1984, 1987). An alternative proposition in the same vein is that CMC is inappropriate for communicating messages that are high in ambiguity (Daft & Lengel, 1984).
These comparative media analyses will not be discussed here, nor others that place greater emphasis on social influence processes (see Fulk & Boyd, 1991;, for a recent review). We simply wish to emphasise at the outset that the answer to the question of whether flaming is a corollary of CMC is not only of theoretical and phenomenological interest, but also has important practical implications for organizational computing. Indeed, decisions by individuals and organizations about the the installation and adoption of CMC are dependent on general beliefs about media effects in which uninhibited behaviour is a central element. In general terms we argue that this opposition between the rational and the irrational in CMC can be dissolved if the pre-defined social context for the communication and its varied effects on behaviour are understood. But first we shall present the evidence for flaming in CMC and the explanations that have been proposed for its occurrence.
The flaming phenomenon
The evidence
We surveyed several hundred articles on computer-mediated communication and computer supported cooperative work (Lea, O'Shea & Fung, 1991). Despite many references to flaming in these texts, we found only a handful of data sources. The most complete findings are contained in the influential series of experimental studies carried out by the Social Committee on Computing at Carnegie–Mellon University. A very limited quantity of field data is also reported in the literature, but for the most part articles relied on one or more of these sources to support their claims. We shall therefore review these studies in some detail.
Siegel et al. (1986) reported three experiments in which computer conferencing, electronic mail and face-to-face communication were compared. Small groups of mainly unacquainted students in a heavily computerized university participated in discussions about choice-dilemma problems (Stoner, 1961) and were required to come to consensus within 20 minutes. In the first experiment subjects conversed face-to-face (FTF), and via simultaneous computer conferencing (the 'Converse' system) under conditions of personal anonymity or identifiability (in the latter condition they added their name to their messages). Measures relating to the discussion task were taken and a content analysis of the transcripts was performed. A significant overall association was found between experimental condition and frequency of uninhibited remarks (swearing, insults and name-calling). Most uninhibited remarks were made in anonymous CMC, almost four times more than in the identifiable CMC condition, and none were made in the FTF condition.
In the second experiment, computer conferencing was compared in two conditions in which discussion took place through either simultaneous or sequential messaging (There was no FTF condition in this study.) flaming occurred in both conditions, but there was no significant association between frequency of occurrence and communication condition.
In experiment 3 simultaneous computer conferencing and electronic mail were compared with FTF communication. In contrast to the first experiment, uninhibited remarks were observed in all three conditions, and were not significantly associated with experimental condition.
In another report, Kiesler et al., (1985) carried out an investigation into physiological arousal and affect during CMC discussions. Pairs of previously unacquainted subjects got to know each other either FTF or via simultaneous computer conferencing and under conditions of high or low evaluation anxiety. Various physiological measurements were taken and the transcripts of the discussions were content analyzed. Although there was no difference in physiological arousal between conditions, subjects using CMC manifested more 'uninhibited behaviour': they were significantly more impolite and used more swearing and exclamations than in FTF.
Finally, two field studies provide self-report data on the frequency with which subjects observed flaming in CMC. In one study of a large office equipment organization, Sproull and Kiesler (1986) reported that employees recalled seeing flaming a mean of 33 times a month in their CMC (electronic mail was used for group as well as one-to-one communication), significantly more often than in their FTF conversations (4 times per month). In another very recent study of campus electronic mail, Thompsen and Ahn (1992) reported that around one-third (38.8%) of email users had observed flaming. Of those, 27.7% estimated that they had seen 25 or more instances in a year.
Based on these observations, two explanations have been proposed to account for flaming in CMC. These are (1) the reduced availability of social cues; and (2) the dominance of the computing subculture.
Reduced social cues
The first and most widely accepted explanation is really a constellation of suggested behavioural implications arising from the central observation that nonverbal cues, such as facial expressions, gestures, and tone of voice are not communicated in CMC as they are in FTF communication and some other media. This important socio-technical feature of CMC is argued to have a variety of social psychological effects that make uninhibited behaviour more likely to occur (Kiesler et al., 1984). First, the absence of such cues reduces the communication of social and normative constraints that regulate the expression of uninhibited behaviour. Second, the absence of these cues reduces perceptions of status, Leadership and power so that in organizational CMC managers' control of the communication is reduced. Third, the lack of immediacy caused by delays inherent in the communication system reduces the effects of social feedback. Fourth, delays and other inefficiencies in the communication medium increase arousal and cause frustration. Fifth, the conditions of CMC are similar to conditions that cause the psychological state of de-individuation (Festinger, Pepitone & Newcomb, 1952; Zimbardo, 1969)—namely anonymity, reduced self-regulation, and reduced self-awareness. Sixth, a heightened self-consciousness or self-absorption in CMC means that attention is shifted away from the social context of the communication. Seventh, CMC is relatively new and few standards and norms for the medium itself have so far emerged. These various processes are argued to increase uninhibited, antinormative behaviour in CMC (Kiesler, 1986; Kiesler et al., 1984, 1985; Siegel et al., 1986; Sproull & Kiesler, 1986). Further details of this model are also to be found in Chapter 3, this volume.
Computing subculture
The second explanation that has been advanced is based on social influence processes and therefore stands in marked contrast to the essentially antinormative reduced social cues explanation. According to this account, uninhibited behaviour originates from the specific influence of the computing subculture in CMC networks (Kiesler et al., 1984). The subculture itself has been studied in some detail (Dubrovsky, Kiesler, Sproull & Zubrow, 1986; Sproull, Kiesler & Zubrow, 1987; Steele, Woods, Finkel, Crispin, Stallman, & Goodfellow, 1983). It is most strongly represented in the computer industry and in computer science departments of universities. It is a community of experts who see themselves at the forefront of social as well as technological change. This perception is strongly and repeatedly communicated to one another and largely defines the group in contradistinction from the rest of society. The computing culture itself is adolescent. 'Pranks, tricks and games are benignly tolerated when not actually encouraged. People are often impolite, unconventional, adventurous and irreverent. Mild larceny, such as faking accounts, breaking codes, stealing time, and copying proprietary software, is admired if not rewarded explicitly.' (Dubrovsky et al., 1986;, p. 313).
Like all professional communities then, it has its own set of values, norms, language, signs, and artefacts. However, it is argued that this community has wide influence over lay persons as well as professionals because computers are used so extensively in work and educational settings. hacker norms are communicated through direct contact with members of the subculture (e.g., through the provision of computing training courses) and through the symbols and artefacts of the culture, i.e., the design of the technology itself. Features of CMC system design, such as a terse and impersonal command language, the opportunities it provides to disregard normal conventions about privacy (e.g., by posting personal messages to bulletin boards), and the removal of time and space separations between work and play, office and home, all communicate and reinforce the norms ;associated with this subculture beyond its own boundaries (e.g., Kiesler et al., 1984).
To summarize the evidence and explanations so far: flaming frequently takes place in CMC, significantly more often than in face-to-face interaction. It occurs because of a lack of social context cues in CMC which produces a variety of psychological and behavioural effects resulting in more uninhibited, antinormative behaviour. In addition the norms and values associated with the computing subculture promote flaming.
Despite the relatively narrow empirical base for these conclusions, the assumption that flaming is promoted by CMC seems to be widely held. Indeed, to judge from the number of times flaming is referred to in the literature, one would quickly gain the impression that it is a well-documented phenomenon, widely observed across many situations and possibly on the increase. Furthermore, one would find that organizations are being cautioned to be alert to this undesirable feature of the medium and to develop plans to deal with it (and with the perpetrators) in order to prevent any escalation of conflict. These plans mainly entail establishing firm control of the medium, for example, by developing etiquette or rules of conduct, by user training, and by establishing a policy for reporting abuse and disciplining abusers (Fanning & Raphael, 1986; Porter, 1984).
In the second half of this chapter we intend to overturn these assumptions and conclusions. But by now a precise definition of the observed behaviour is long overdue. What exactly is this 'flaming' behaviour that has attracted so much attention in the literature on CMC? Unfortunately, there appears to be some confusion, both conceptually and operationally over its definition, so we turned our attention to tracing the history of the term.
The flaming phenomenon revisited
Definitions of flaming;
Up until this point we have chosen only to loosely define uninhibited behaviour and flaming and to assume that the reader understands what is intended by the terms; in fact more precise definitions turn out to be problematic. The Kiesler et al. (1985) study operationalized uninhibited behaviour as all of the following: impolite statements (e.g., 'you are a jerk!'), swearing, flirting (e.g., 'can we meet after this experiment'), exclamations (e.g., 'Hooray!'), expressions of personal feelings towards the other (e.g., 'I like you'), and use of superlatives in expressing evaluations (e.g., 'I like him best'). Sproull and Kiesler (1986) presented an even wider definition of uninhibited behaviour that included all messages conveying bad news and all instances of social (non-work) messages sent from the work-place, as well as flaming.
flaming is regarded as a form of uninhibited behaviour (the terms are often used interchageably) and is typically defined as language that includes swearing, insults and name-calling (Siegel et al., 1986) or profanity, negative affect and 'typographic energy' i.e., capitalizations and exclamation points (Sproull & Kiesler, 1986). Further confusion arises from describing uninhibited behaviour as a measure of expressive behaviour on some occasions (e.g., Kiesler et al, 1985), but regarding expressive behaviour as a form of uninhibited behaviour on others (e.g., Siegel et al., 1986).
However, although it is clear that the above examples describe expressive behaviour, they appear rather tenuous as descriptions of uninhibited behaviour. For example, 'profanity' in CMC often means the substitution of strings such as '@#$%*ing' rather than actual swearing itself (e.g., Sproull & Kiesler, 1986). Regarding this sort of self-censorship (perhaps the textual equivalent of euphemisms in FTF speech) as uninhibited behaviour is rather curious. After all, if communicators are really feeling uninhibited in CMC what stops them from actually swearing? In fact one could argue that this is an example of people being more inhibited about swearing in text than in speech. Below we discuss some possible reasons why people might feel more inhibited in CMC (such as feedback from a wider audience and the visibility and permanence of text).
Similarly, the idea that capitalizations and italics—the accepted conventions for emphasis in written text—represent uninhibited behaviour is also questionable. It may be true to say that the use of these typographic devices helps with the expression of strong emotions—just as the adoption of an appropriate volume and tone of voice does in spoken communication—but does this mean that the communicators are necessarily being uninhibited? Defining the use of superlatives as uninhibited behaviour rather than say, enthusiasm or vitality would also seem to require explanation.
Further discussion of the notion of 'uninhibited' behaviour in CMC and in particular its relation to normative versus antinormative behaviour is provided in chapter 3, this volume. Here we note that there are additional problems specific to the term flaming. flaming was a term originally coined by the hacker community to describe someone speaking 'incessantly and/or rabidly on some relatively uninteresting topic or with a patently ridiculous attitude' (Steele et al., 1983). However, in its appropriation into the CMC research literature the term underwent some transformation and is now used to describe behaviour that is somehow peculiar to CMC. Thus, Kiesler et al. (1984) use the term in the following way: 'in the computer subculture, the word flaming refers to the practice of expressing oneself more strongly on the computer than one would in other communication settings' (p. 1130, italics ours). A different emphasis is provided by Kiesler et al (1985) where flaming is defined as occurring more frequently on the computer. In yet another variation, Siegel et al. (1986) define flaming as the expression of strong and inflammatory opinions to others electronically.
Note however that the earliest definition of the term in the Hacker's Dictionary (Steele et al. 1983) makes no references to CMC whatsoever. Nor does this definition specifically mention negative affect, swearing or name-calling. In fact it suggests more the idea of someone talking excitedly and inappropriately holding the floor in a conversation rather than the notion of uninhibited behaviour as it has come to be defined in CMC. Moreover, to define flaming as behaviour that occurs more strongly and more frequently in CMC is to prejudge the outcome of empirical studies. Indeed, in the definition provided by Siegel et al (1986) the process could be said to be complete and flaming by definition only occurs in the electronic medium, a 'fact' moreover, which is putatively acknowledged in the wider community of network users, and not merely in the computer subculture.
Certainly, subsequent reports on flaming appear to have accepted these definitions, and in particular the media relativity aspect. For example, Rice and Steinfield (1992) reported that 'Users noted the tendency for "flaming" to occur: the tendency to react more critically or with greater hostility over this medium, leading to an escalation of conflict'. Spitzer (1986, p. 20) describes flaming as 'emotional outbursts of rudeness, profanity, or even exultation, which sometimes occur—and seems to be occurring with increasing frequency—among users of computer conferencing systems'. A recent article by Selfe and Meyer (1991, p. 170) remarked that '"flaming"—heated, emotional, sometimes anonymous, venting by a participant—is a common, if not universal, feature of computer-based conferences'.
In none of these reports (and they are merely illustrative of a much wider set) can any new statistics be found to support the claims of media relativity, proliferation, or universality for flaming and yet, as we have seen from our survey of the extant literature there have been no comparisons of the strength of expression in CMC relative to FTF, and the few studies that set out to compare actual or self-reported rates of flaming do not wholly support the idea that flaming occurs more frequently in CMC than in FTF. Furthermore, we consider that the few observations of flaming that have been reported suffer for various reasons from poor reliability and validity to the extent that we regard the putative link between CMC and flaming as dubious, at best. We shall be discussing these weaknesses and reviewing new data in the next section.
The empirical base
Some studies have found instances of flaming or uninhibited behaviour in CMC and it is cLear from these and from anecdotal reports that people find various ways to express strong emotions via this medium. Less cLear however, is whether flaming occurs frequently in absolute terms or more frequently relative to FTF. From our re-analyses of flaming and message traffic data contained in the reports cited above we have concluded that flaming is in fact comparatively rare in CMC. For example, from inspection of the Siegel et al (1986) data gathered in three experiments it appears that 'uninhibited remarks' accounted for just over 3% of all remarks in the computer conditions. A slightly higher proportion (4.6%) was observed in the Kiesler et al., (1985) experiment, but recall that the definition of uninhibited behaviour was here expanded so far as to include mild expressions of positive affect and the use of superlatives (e.g., 'I like him best'). In fact, the latter was observed much more frequently than any other form of 'uninhibited behaviour', such as rudeness (only 0.45%) and swearing (1.10%). Uninhibited remarks also occurred much less frequently in these experiments than other kinds of communication, such as task-orientated remarks which accounted for 76% of total remarks (Siegel et al., 1986).
Other recent studies have reported little or no uninhibited behaviour in CMC (e.g., Rice, 1990). Two in particular are especially relevant since they used broadly the same experimental paradigms involving group discussions and decision-making as in the Siegel et al., (1986) studies. In one experiment (Hiltz et al., 1989) groups of managers carried out decision-making tasks either FTF or via synchronous computer conferencing under conditions of personal anonymity or identifiability. In over half the conferences not a single instance of disinhibition was observed, relatively little flaming occurred overall, and there was no significant difference between conditions. In the other experiment, Lea & Spears (1991) compared computer-mediated group discussions under conditions of visual anonymity versus identifiability, and high group salience, versus low group salience. A number of differences in communication and outcomes between the conditions were reported, but uninhibited behaviour occurred too infrequently for statistical analysis.
Zimmerman (1987a, 1987b) has reported a series of studies into the language use of severely disturbed adolescents communicating FTF and via a computer conferencing system. The combination of strong emotional expression and hostility that defines flaming was specifically not found in these studies. CMC was found to be more expressive of feelings, but less negative in expressive style, and reflected more positive interpersonal relations.
However, both Siegel et al. (1986) and Kiesler et al. (1985) concur in finding a trend towards a greater proportion of uninhibited remarks being exchanged in CMC than in FTF (although only one of two experimental comparisons was significant in Siegel et al.). These observations would place stronger demands for some kind of theoretical explanation were it not for the problems associated with straightforward comparisons between CMC and FTF when there are time-constraints imposed on the interaction (Spears, Lea & Lee, 1990; Walther, 1992). Communication is slower in CMC, chiefly because it takes longer to type remarks than to speak them and because of transmission delays. The total number of remarks exchanged in a given time-period is therefore greater in FTF and this may affect comparisons in two ways. First, it may create an extra pressure in CMC to complete the experimental task on time. In Siegel et al (1986), expt. 1, where groups had 20 minutes to reach a decision, subjects exchanged only 66% of the volume of remarks in CMC compared to FTF. In the Kiesler et al. (1985); experiment there were similar time-pressures to complete the experimental task (subjects were required to discuss as many questions from the discussion guide as possible in 20 minutes) and fewer remarks were exchanged in CMC than in FTF. One proposed explanation of flaming is that it is provoked by frustrations arising from the communication inefficiency of the medium. If this is the case flaming should be more likely when there are externally imposed time-pressures. Relaxing time-constraints in this experimental paradigm may reduce flaming differences between the two conditions.
A second, related problem is that comparisons between CMC and FTF that do not control for differences in communication speed assume that groups in both conditions spend equal proportions of their time engaged in similar communication tasks (e.g., in the various phases of decision-making; see also Walther, 1992). Yet, Siegel et al., (1986) report that the group dynamics were significantly different between conditions (e.g., groups made significantly more decision proposals as a proportion of total remarks in the CMC condition). In such a situation where participants are under pressure to reach agreement in a very short time, flaming may substitute for argument as a way of exerting social influence. Indeed, the examples of flaming cited by Siegel et al. would appear to support this suggestion (e.g., "Tty 104 move your fingers!! What the hell is the matter with a social life"; op cit. page 174, footnote 4). Consequently, it remains an open question whether observed differences in uninhibited behaviour between CMC and FTF under these experimental conditions were due to inherent media properties or in fact due to externally imposed time-pressures on group decision-making which had a greater impact in CMC because of the need to type remarks. The proportion of uninhibited remarks might have been equal in the two conditions if the total number of exchanged remarks had been equalized.
Field studies potentially provide more generalizable data regarding the incidence of uninhibited behaviour in CMC and we suggest that these studies imply even more than the experimental studies that flaming is a rare phenomenon. In the Sproull and Kiesler, (1986) study, we calculate from the message traffic data that subjects estimated flaming to be present in only 4.6% of their received messages. In the Thompsen and Ahn (1992) study, although a small minority of all users (10.7%) had experienced 25 flaming instances in a year (and even this figure is likely to represent only a very small proportion of the total message traffic), the same study also found that fully 79.5% of all users had either never observed flaming of had observed it so infrequently as to be negligible (<5 instances per year).
In fact, even these low figures may vastly overestimate the frequency of actual occurrences of flaming. Both field studies presented subjects' retrospective reports of how frequently they observed flaming in messages, rather than how frequently flaming actually occurred. However, several factors contribute to the unreliability of estimates of frequency of occurrence based on frequency of observation. First, both organizations in which the studies were conducted used electronic mail for group communication (via distribution lists) as well as for one-to-one communication. Thus, many of the messages would have been seen by more than one, and possibly by a great many users. From statistics presented by Sproull & Kiesler (1986) we estimate that each message had a mean of 11.8 recipients. Given this, any actual instance of flaming is likely to have been reported more than once, inflating the final estimate. Indeed, Sproull & Kiesler present some examples of flaming that had been received by hundreds of people in the organization(e.g., Sproull & Kiesler, 1986;, Exhibit 2; Sproull & Kiesler, 1991;, Box 3.2).
Sproull and Kiesler take this widespread distribution of flaming as evidence that senders have a reduced awareness of their audience when they are communicating electronically. Similarly, Thompsen and Ahn (1992) invoke just this explanation for their observation that those subjects who observed flaming tended to receive a greater proportion of their email from distribution lists: the greater anonymity associated with distribution lists and computer conferencing means that people feel less inhibited. Hiltz et al (1989) also suggest that in large public computer conferencing networks the social context and its associated norms and standards are less well defined and therefore more antinormative behaviour, including flaming is likely to be observed. We take up this theoretical issue in a moment. However, in phenomenological terms we propose a much more parsimonious explanation for the association between group communication and flaming: flaming is more likely to be observed in distribution lists and computer conferences because any given message reaches a great many more people.
Moreover, this one-to-many feature of much CMC contrasts with the one-to-one or one-to-few character of typical FTF conversation. It means that there are likely to be far more reported observations of flaming in CMC than in FTF irrespective of differences in actual incidence rates. It is this factor which we believe is possibly the most remarkable aspect of flaming in CMC. The improved connectivity provided by CMC affords a variety of social effects (Culnan & Markus, 1987; Sproull & Kiesler, 1991); one of them is to widen social influence, and relatedly another may be to foster impressions of widespread uninhibited behaviour in CMC.
It is also interesting to note that subjects in the Sproull and Kiesler (1986) study overestimated the number of messages they exchanged and underestimated the proportion of messages they received that were sent to more than one sender. These findings should perhaps alert us to the possibility that systematic biases may exist in the observation and retrospective reporting of flaming, and research into social cognition suggest what some of these biases may be. For example, we may have difficulty in distinguishing between multiple instances of flaming by one individual and separate instances by different individuals (cf. Rothbart, Fulero, Jensen, Howard & Birrell, 1978); a situation which is presumably exacerbated in group CMC with which flaming is more often associated in people's minds.
Also, the tendency we share to evaluate the frequency of an event (such as flaming) on how quickly instances come to mind (the availability heuristic: Tversky & Kahneman, 1973) may be increased in the case of CMC by the distinctiveness and permanence of text. Furthermore, the properties of flaming behaviour itself may also increase its availability. Negative behaviour is given more attention and carries more weight when forming judgements (Fiske, 1980; McArthur, 1981) and both negative and extreme behaviour (precisely the characteristics that define flaming) are remembered more easily (Mullen and Johnson, 1990; Skowronski and Carlston, 1987). In sum, retrospective reports of the frequency of flaming are likely to be inflated both in absolute terms and relative to FTF by its increased psychological availability and by its social (network) availability in CMC.
Comparisons against the FTF 'standard' for conversation have often focussed on the diminished quality of communication in CMC, and have tended to neglect the powerful effects brought about by the textualization of conversations through this medium. In her extensive and detailed observations of computerization at 'DrugCorp', Zuboff (1988) draws attention to the way that CMC had extended oral culture to the written form.
"The content of [computer conferencing]—the spontaneous pun, the off-colour joke that seemed acceptable late Friday afternoon, the sometimes wistful sometimes insistent efforts to communicate with unseen colleagues—all of these had been reborn as text, unwittingly but remorselessly documented. …[Participants' efforts] to construct and manage complex social exchanges had inadvertently reified and exposed the most delicate and sometimes questionable facets of their organizational lives." (p. 381).
In the case of DrugCorp the tendency for participants to view the conferencing medium as an opportunity to extend and elaborate the oral culture in which they conducted their professional work was widespread. People compared meandering through the conferences to hall-way conversations, experiencing the same degree of serendipity and stimulation. Indeed the instruction manual for the system encouraged such a view. However, some also noted a degree of hypocrisy in that "the same behaviour that was acceptable in a meeting of all male managers was spurned when it showed up in the [computer conference]". (p. 380).
As Zuboff remarks, computer conferencing transformed the transient conversations of the coffee break, the meeting, the telephone conversation into a concrete presence that made them visible in a wholly new way (see also Wilkins, 1991). We argue that this textualization of the oral culture encourages the view that flaming is a distinctive feature of the medium by giving such behaviour a visibility and permanence that it does not normally have in conversation. Recognition of these factors, improved connectivity, textualization of sociality and social cognition processes all of which make a particular flaming incident more likely to be observed and recalled, considerably weakens claims based on retrospective estimates that flaming behaviour actually occurs more frequently in this medium than in FTF interaction.
From our analysis so far, it may be tempting to conclude that there is little need to explain flaming behaviour since its putative association with CMC appears to be questionable on closer inspection. Nevertheless, flaming does occur in CMC, at least it is reported as occurring on some occasions, but not on others. Adequate explanations of flaming therefore need to be sensitive to these variations in behaviour and should be able to predict the conditions under which flaming is probable and when it is not. We now return to the explanations of flaming behaviour, briefly introduced above and evaluate their usefulness in this respect.
Reducing social cues
Of the two explanations for uninhibited behaviour in CMC—reduced social cues, and a dominant computer subculture;—the former is conceptually more complex. It will be recalled that this model implicated seven different processes or factors. Here we very briefly identify a number of problems in the application of these different elements and in the relations between them. For a more extensive review of the reduced social cues perspective, see chapter 3, this volume or Lea and Spears (1991).
While the central observation, that CMC lacks non-verbal cues associated with FTF, would seem indubitable, it would not be true to say that messages in CMC are devoid of social cues. Communication style conveys much social information even though messages are text-based keyboard compositions. For example, the use of salutations and the formality/informality of the language indicate age, status and authority and the kinds of interpersonal relations perceived or expected by the communicators. Paralanguage, including the now well-documented use of typographic tricks, conveys additional social and emotional information (Spitzer, 1986). Communication styles are used to form impressions of others in CMC and are quickly recognised and associated with particular individuals so that they overcome any intended anonymity (Phillips, 1982; Sherblom, 1988;). They are used to negotiate the relations between the communicators and to manipulate communicators' on-line identities (Finholt & Sproull, 1990; Heimstra, 1982; Myers, 1987; Walther, 1992). Social cues are also communicated via message headers, (such as gender, organizational affiliation, geographical location and time of sending and receipt) from which stereotypical inferences about the communicator can be made (see chapter 4, this volume). These indicators may often be unreliable as interpersonal cues, nevertheless they form useful cues at the social categorical level in the absence of more detailed knowledge of the communicators (Lea & Spears, 1992). In sum, many of the field studies of CMC gathered from studying groups placed in their historical and social contexts present observations of socialized CMC that contrast with the image of deregulated, impersonal communication depicted from earlier studies of experimental groups in the laboratory.
'The distinction between social cues that act as interpersonal cues and those that act as social category cues may be important for understanding the effects of reduced social cues in CMC (see chapter 3, this volume). Interpersonal cues refer to unique attributes of an individual (i.e., personal identity) and his or her interaction with others as individuals. Social category cues, on the other hand, refer to an individual's membership of, or affiliation to, various social groups (i.e., social identities) and to interaction with others in terms of these social identities. Social identities can be held at a societal level (e.g., nationality, gender), as well as being more locally defined (e.g., organizational affiliation, position, status, membership of divisions and work groups). Whereas interpersonal cues are principally conveyed through nonverbal communication and are therefore sensitive to the bandwidth of a particular medium, social category cues can be sparse and unelaborated; such discrete categorical information does not require broad communication channels. As we have already indicated, message headers and message style convey social category information and in addition, in most organizations, social category information is likely to be well-defined independently of CMC (Culnan & Markus, 1987). That is, the status, position and roles of communicators will be known to each other independently from any CMC and their recall will be activated by messages from a given individual.
The importance of social category cues is that by referring directly to the communicators' membership of specific social groupings they make salient the relevant norms for the specific context in which the CMC takes place. Interpersonal cues, on the other hand, can work to undermine the group, and hence the normative context for the communication, as they identify communicators more in terms of their unique individual attributes than by their social identities. Paradoxically then, the apparent lack of interpersonal cues can serve to enhance rather than to reduce the social context in CMC, by making the group more salient than the individual. By this analysis, norms associated with relevant groups should be more salient and behaviour should be more in terms of prevailing group norms in CMC than in FTF. These points are fundamental to the development of our social influence explanation of flaming which therefore predicts that the presence or absence of flaming on a given occasion is dependent on whether salient group norms favour or disfavour such behaviour.
The assumed effects of delays in feedback associated with CMC may also have been over-estimated. Analysis of computer-mediated conversations suggests that they typically depart from turn-taking rules associated with a linear exchange of information. Instead, even very short messages can simultaneously serve different functions: to backtrack on a previous message and to advance the discourse on several topics, for example. These patterns of communication partly represent attempts to overcome delays produced by the technology (Bowers & Churcher, 1989; Severinson-Eklundh;, 1986; Ord, 1989; Wilkins, 1991).
On the suggestion that CMC is an immature medium that has yet to acquire a specific etiquette and hence produces deregulated behaviour, it is questionable to what extent general norms or standards of communication are developed for particular communication media, or that a lack of communication standards necessarily implies uninhibited communication. CMC shares some of the features of both public broadcast media and private interpersonal media (cf. Cathcart & Gumpert, 1983). Its ambiguities in these and other respects, and the ways in which ambiguities are manipulated and resolved, are likely to determine (and be determined by) the extent to which global or local structuring of the communication occurs (cf. Bowers & Churcher, 1989). The degree to which general norms are seen to emerge for the medium will be dependent on the extent to which general 'solutions' are seen to be required and then applied to 'problems' such as flaming. But there is nothing inevitable about the generalization of norms , and whereas the anecdotal accounts here and elsewhere vividly show how constraints can be imposed on CMC, there are also examples of how norms that are specific to a particular group context are negotiated contemporaneously through the discourse (Finholt & Sproull, 1990; Wilkins, 1991). Rather than CMC becoming more uniform and standardized with greater familiarity as suggested (Sproull & Kiesler, 1991;, p. 51), it could be that norms will become more locally defined and uniquely contextualized, and hence more variable as greater numbers of individuals and groups become adept at manipulating computer-mediated social interactions.
The reliance on de-individuation to explain uninhibited behaviour is far from straightforward, but will be considered only briefly here as deeper discussion of the relevant theoretical issues has been presented elsewhere (chapter 3, this volume). de-individuation, classically defined is the process whereby submergence in a group produces anonymity and a loss of identity, and a consequent weakening of social norms ; and constraints (e.g., Festinger, et al. 1952; Zimbardo, 1969). CMC typically reproduces some of the conditions (such as visual anonymity and physical isolation) that promote a state of de-individuation. However, de-individuation does not necessarily have to be conceived of as a deregulated state leading to anti-normative (uninhibited) behaviour. Provided that the group is already made salient in the pre-defined social context for the communication, the effects of visual anonymity and isolation in CMC can be to further increase the salience of group norms , (Hiltz et al., 1989; Lea & Spears, 1991, 1992; Spears, et al., 1990). uninhibited behaviour is not then an inevitable consequence of anonymity (cf. Siegel et al., 1986;, expt. 1), but depends on whether or not it forms part of the group norms . Recent studies provide a measure of support for this view. Two experiments found that behaviour was more in the direction of prevailing group norms under de-individuated conditions, even when following these norms meant cautious (rather than uninhibited) decision-making (Hiltz et al., 1989; Lea & Spears, 1991).
de-individuation, classically defined, also implies reduced self-awareness (Deiner, 1980) and is therefore incompatible with the next explanation of uninhibited behaviour in the reduced social cues account. This holds that uninhibited behaviour arises from increased self-consciousness associated with CMC that distracts the focus of attention from the other communicators. Several studies have indeed found increased self-awareness in CMC (Siegel et al., 1986; Matheson & Zanna, 1988, 1989), however the self need not be conceived of as a single entity (e.g., Tajfel & Turner, 1986; Turner, 1982) and the effects of increased self-awareness depend on which aspects of the self are made salient and which norms and standards are associated with them (Carver & Scheier, 1981). If social identity is made salient increased self-awareness may or may not lead to uninhibited behaviour depending on which specific norms are salient. Overall, uninhibited behaviour is not an inevitable consequence of increased self-awareness in CMC (Spears et al., 1990).
Finally, some further observations have implications for the explanatory power of the reduced social cues explanation and in particular the notion that in CMC there is poorer social feedback and less awareness of an audience. First, these conditions should be more associated with asynchronous forms of communication (due to extra time delays) and therefore more uninhibited behaviour should occur in electronic mail or sequential conferencing. But in the Siegel et al. experiments no significant differences in flaming were observed between asynchronous and synchronous communications. In fact, the trend tended to go away from the predicted direction (Siegel et al., 1986;, expts. 2 and 3).
Secondly, the reduced social cues model places some of the explanation for flaming in the perceived ephemerality of the communication: "Messages appear and disappear with the touch of a button and there are no tangible artifacts like someone sitting across the desk or ever growing piles of paper…" (Sproull & Kiesler, 1991;, p 42). However, for Zuboff (1988) the relative permanence of the text was a striking feature and one which might account for her observations that jokes and comments that were tolerated when spoken were rebuffed when written in a message. Recently, Thompsen (1992) has drawn attention to the facility to replay the communicative act in CMC by scrolling back the screen to read and reread a flaming message that has been sent or received thereby adding to the perceived permanence of the communication.
Thompsen (1992) has also described how the process of crafting a message ostensibly directed at one particular communicator can be done in the full knowledge that the entire audience will read it and draw conclusions. In group CMC the text may be part of an interpersonal debate but the sub-text can be directed for wider consumption. The fact that CMC straddles the divide between public broadcast and interpersonal media makes this performance aspect of the communication more likely. Observations of the ways in which different voices and persona are adopted in computer conferencing again point to a strong awareness of the audience by communicators rather than the opposite (Myers, 1987; Finholt & Sproull, 1990).
Some reports suggest that a single instance of flaming on a public conference or bulletin board (which has maybe hundreds or thousands of readers) can be met by inundating the 'offender' with recriminations, both electronically and face-to-face so that it is not uncommon for a flame to be followed by an apology and discussion about what had occurred (Finholt & Sproull, 1990; Sproull & Kiesler, 1991;, p. 49-55). These observations are hard to square with the notion that communicators are unaware of their audience and deprived of social feedback; if they do temporarily lose sight of their audience they may quickly receive multiple reminders of it and of the norms for the specific communication context.
Awareness of the permanence and physical presence of the language and of the wider audience for the communication might mean that people can on occasion feel more inhibited in their CMC than in their FTF conversations. On other occasions, however, a 'bandwagon' effect has been observed with progressively more of the audience engaging in flaming after it has been initiated (Hiltz et al., 1989). Recall also, that some studies found very little or no flaming in CMC (e.g., Hiltz et al, 1989; Rice, 1990; Lea & Spears, 1991). This variability in flaming behaviour and in the responses that it receives cannot be accounted for by a model of communication which places the responsibility for flaming behaviour with the socio-technical properties of the medium. A major problem for the reduced social cues model is that it cannot differentiate those situations when flaming does occur from those when it does not. It predicts instead that flaming will inevitably occur as a consequence of the medium (unless it is somehow controlled); but as we have seen flaming is probably far less widespread than this model would imply.
Dominance by the computer subculture;
It seems likely that the hacker subculture accounts for some cases of uninhibited behaviour in CMC, namely acts by people who identify with the culture. Descriptions of the hacker subculture reveal a set of attitudinal and behavioural norms that to some extent run counter to the expectations and standards of industrial or educational organizations from which perspective they might be considered deviant or uninhibited (Dubrovsky et al., 1986; Sproull et al., 1987; Steele et al., 1983). Note that the university where the initial experiments into flaming were conducted was heavily computerized, that as early as 1984, 80 % of students were experienced computer users and that it had a well-documented hacker culture (Kiesler et al., 1985).
However, it is not all together clear why the norms associated with this culture, but not others, should have a particular influence, nor how it comes to be so influential when awareness of the hacker subculture is minimal, as must increasingly be the case as CMC becomes more widespread. It has been suggested that the culture is communicated through the technology itself, through the language adopted and that it forms part of the symbolism attached to personal computers. However, some evidence points to competing influences there too: that status, authority and control are symbolised through computer use in office environments, for example (Safayeni, Purdy & Higgins, 1989). The observation that in some contexts messaging can be very low in socio-emotional content also suggests that a computing culture norm favouring uninhibited emotionality is not invariably dominant in CMC (e.g., Sumner, 1988). On the other hand direct evidence for the association between flaming and the computer subculture comes from the use of the FLAME ON/FLAME OFF convention to signal the beginning and end of a flaming episode analogous to computer switching between states (e.g., Sproull & Kiesler, 1991). The problem here is that the deliberate use of such a warning does not convey the impression of someone with a reduced concern for his or her audience engaging in deregulated, uninhibited behaviour, so much as the opposite.
The computer subculture; explanation draws on social influence processes to account for uninhibited behaviour and therefore stands in direct opposition to the reduced social cues account, which specifically implicates the lack of social influence in this medium as the cause. Despite their mutual incompatibility, both explanations make the same assumption: that communicators are dependent on a social context emerging from messages exchanged over the communication network to inhibit flaming. The absence of an adequate social context 'releases' uninhibited behaviour that would otherwise be constrained, or else allows the uninhibited norms of the computer subculture; to dominate the interaction. However, as a social influence explanation of flaming, the computer subculture; has only limited applicability, while the idea that only a poor or inappropriate social context is supported by the medium itself neglects the sources of social influence that are not dependent on interpersonal cues or the actual message content exchanged.
Underlying the assumption of reduced social context cues in CMC is a particular view of social groups—albeit one that has been widely held—that defines the group as a structural entity comprising interdependent individuals, bonded by ties of cohesiveness or mutual attraction (see e.g., Hogg, 1987, for a critique). From this perspective it is logical to assume that when people are physically removed from the group (as is normally the case when they communicate via computer), the group and its associated norms are undermined. social influence is then dependent on norms ;being successfully communicated in situ and the adequacy of the communication medium for this task becomes crucial. However, this view of the group has increasingly been criticized on theoretical and empirical grounds. In the next section we briefly present an alternative view of social influence in CMC based on a cognitive re-definition of the group and discuss its application to flaming.
A social influence ;explanation of flaming
An alternative to the interdependence model is to conceptualize the social group as a socio-cognitive structure in which social categorization and identification mediate group processes (Hogg, 1987; Turner 1982, 1991; Turner, Hogg, Oakes, Reicher, & Wetherell, 1987). This allows social influence to occur independently from the physical co-presence of others and for the influence of more general social categories in society. Put another way, social influence requires first and foremost that we identify with a particular social group and this social identity is carried 'in our head' even if we are not in the physical presence of the group. Indeed, physical co-presence can undermine the sense of being part of a group by highlighting individual differences between group members (Spears et al., 1990). From this viewpoint, CMC takes place between members of distributed social groups, cognitively defined. It follows that whether or not flaming or uninhibited behaviour takes place depends on which social groups and which of their associated norms are salient at any one time and does not depend on co-presence or on the salient norms being communicated via the medium (see chapter 3, this volume for further details).
How does this social identity approach fare in accounting for the experimental and anecdotal reports of uninhibited behaviour in CMC? It predicts that uninhibited behaviour is more likely when a social group becomes salient that includes uninhibited behaviour among its norms . We concur that this may have been the case for the Siegel et al. (1986) and the Kiesler et al. (1985) experiments which were conducted at a heavily computerized university in which there is an influential, and well-documented hacker ;subculture (Kiesler & Sproull, 1987; Dubrovsky et al., 1986; Steele et al., 1983; Porter, 1984). We also note that more uninhibited behaviour occurred in the anonymous conditions of these experiments where subjects were de-individuated and the sense of belonging to that group would have been enhanced by the lack of personal cues. In the Hiltz et al. (1989) experiment a very different social context was described. There, decision-making tasks were carried out by peer groups of managers within a large corporation with a well-developed and conservative corporate culture. Little uninhibited behaviour was observed in these experiments. However on those rare occasions when flaming did occur there was a tendency for a small 'bandwagon' effect of insults and profanity to develop, suggesting that the flaming reflected the emergence of a competing norm. Another point of interest is that flaming was restricted to a small minority of conferences, whereas a random distribution of flaming across conferences might be predicted by a reduced social cues explanation.
The latter point may be useful for understanding flaming in public bulletin boards such as Compuserve and USENET. Our observations of messages exchanged in 1,300 bulletin boards or 'newsgroups' belonging to the world-wide USENET suggest that flaming is both comparatively rare and usually restricted to certain groups. An antinormative explanation would predict an even distribution of flaming across newsgroups, since flaming results from a property of the medium (reduced social cues), whereas a distinctly patchy distribution is in fact observed with considerably more flaming in some newsgroups than in others. The impression that this gives rise to—that flaming is normative behaviour for particular groups—is underlined by the fact that several interest groups have elected to specifically include the word 'flame' in their formal title thereby defining the norm for all potential contributors (e.g., 'alternative.flame.abortion').
Returning to the anecdotal observations of Emmett (1981), it will be recalled that employees used the network to complain about unpopular management decisions to their peers in other company locations, many of whom they did not previously know. This behaviour continued to the point where job hunting and swapping of personal resumes was carried out over the network. Kiesler et al. (1984) labelled this use of the system as uninhibited behaviour and attributed it to the absence of felt norms in CMC. However, in a recent recapitulation, Culnan and Markus (1987) suggested that it illustrated a different property of the medium: that it facilitates the groupings of people by common interests rather than by geography, social position, and prior acquaintance. If this is the case it implies that CMC can widen social influence and hence encourage more normative behaviour that has not been sanctioned by authority. We take Finholt and Sproull's (1990) observations that within organization;al CMC, discretionary discussion lists (i.e. voluntary groupings) displayed more statements defining identity and norms than required discussion lists (non-voluntary) as supporting this view. Moreover, the de-individuated conditions associated with much CMC (physical isolation and visual anonymity) would give further salience to the relevant group norms (Lea & Spears, 1991).
Having noted that social influence and normative behaviour may be afforded by the technology and the circumstances in which it is typically used, the social identity approach would examine the social context in which flaming occurred for a more complete explanation. We would wish to identify the social identities that were salient at the time of the flaming. In the case described by Emmett, we might wonder whether employees' identities stemming from their social life and professional careers had become more salient than their membership of the organization with which they were dissatisfied so that a different norm emerged in competition with the organization's norms . Indeed, the practice of complaining about one's job to acquaintances (or even to strangers) is commonplace as is the practice of using contacts to facilitate career moves. It is only from the perspective of a particular organization that griping might be viewed as individualistic or antinormative behaviour; viewed in terms of the employees' other social identities (e.g., their peer groups; their profession), it emerges as normative behaviour. Moreover, it is only when viewed in comparison with the traditional role of text that the behaviour appears remarkable at all; within an oral culture (i.e. telephone and face-to-face interaction) the behaviour would be commonplace and unremarkable (and less visible).
If you found this article useful, please make it easy for others to find:
Internet Flaming: Observations, explanations, implications
Click To Tweet
Conclusion
In this chapter we have attempted to demonstrate how, on the basis of a few observations, flaming behaviour has been decontextualized and come to be regarded as a universal feature of the medium. We argue that flaming is in fact radically context-dependent; that it is a comparatively rare occurrence in CMC, but that for various reasons specific instances are observed or remembered by large numbers of people thereby contributing to the illusion of universality. After reviewing the literature we conclude that the putative association between flaming, uninhibited behaviour and CMC is unproven and that the proposed explanations do not account for the observed variability in flaming behaviour. We propose an alternative explanation that views instances of flaming as normative behaviour that takes place within a social context that is pre-defined or communicated via the medium.
Download full text including references in pdf format.